Hi. You're here for the music, right?
Come on in.
Tim's Morsel O' Music™
Morsel #18 – Running: I wrote this for a TV spot that featured a jogger out for a pre-dawn run in the city. Since I have little to no experience with that sort of insanity – and intend to keep it that way – composing this music was a true test of my imagination.
I upload a shiny morsel of music here every so often. You can sign up to be notified by email each time I post one. I'll announce it on Facebook and Twitter, too. Oh, and remember, old morsel postings are in the blog section, and there's always plenty more music on the work page.


News & Things
"Where'd You Dig Up That Old Fossil?": Episode 1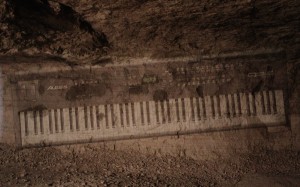 I took a trip back into my musical archives recently. It's fun, and sometimes horrifying, to listen to things I wrote or was otherwise involved in producing – some of it goes back 20 years or more. And now I want to share that fun/horror with you, in a series I'm calling, "Where'd You Dig Up That Old Fossil?" The first episode: Pickled Beets.
Back in the '90s, my friend Chris Wilson and I wrote a song called "Pickled Beets," a ridiculous twangy tune that quickly became one of our favorites to play live, in our band The Underhills.
A year or so later, when I needed music to fill out my meager advertising reel, I re-purposed "Pickled Beets" into a fake jingle. It's hard to believe that in spite of its awful MIDI-fied sound and production value, it helped me land a big job composing country spots for Hardee's. But it did.
So the moral of the story: You should put only your very best stuff on your demo reel. Plus one crappy-sounding jingle about round vegetables.
Read More...